Bangkok, November 14, 2022: Cooking at home has been linked to a cheaper, healthier, and more sustainable diet. The fourth annual World Cooking Index by Cookpad, a global recipe-sharing platform, and Gallup, found that, on average, people in Thailand cook 6.6 freshly-prepared meals at home each week.
Thai married men are cooking more than Asian neighbors. Helping out in the kitchen, the men cook 7 times per week out of 14 meals. In ascending order of the number of freshly prepared meals per week, Myanmar men are cooking at 2.9 per week, Japan also at 2.9, Cambodia at 3.2, Taiwan at 3.4, Hong Kong at 4.4, Indonesia at 4.4, and Malaysia at 6.2. Thai married couples, on average, cook 7 to 7.6 per week. Compared to the global married couple, females cook 9.5, and the male is only cooking 4 times a week!
Top 5 popular recipes men are cooking at home with Cookpad: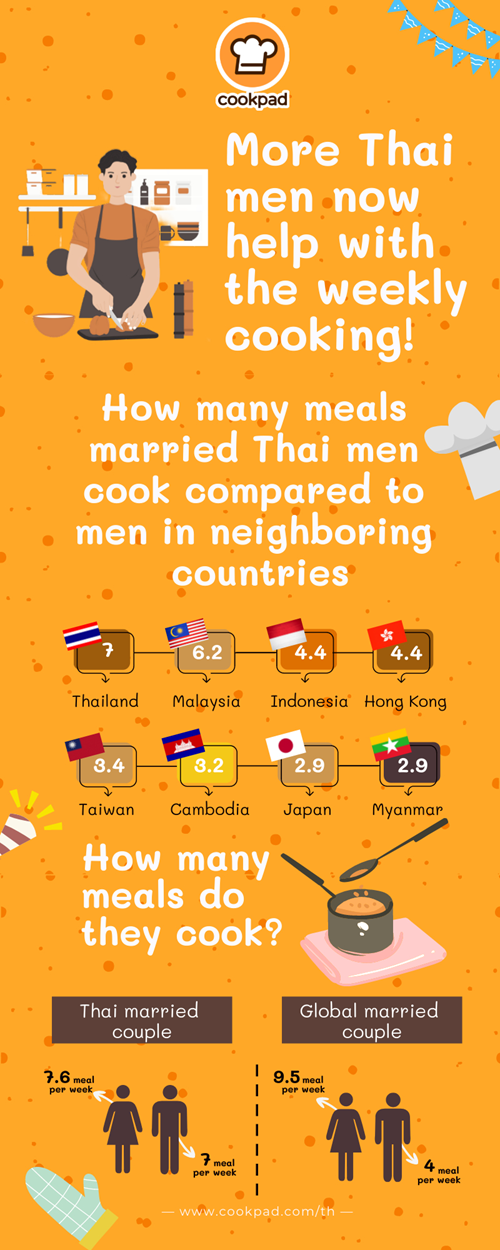 Sutthikarn Srisavittiyakorn, Thailand Country Manager of recipe sharing platform Cookpad, comments, "The World Cooking Index research, reflects the trends we see within our home cooking community in Thailand. More Thai men publish recipes on Cookpad and makeup half of those attending our community cooking events. On our Thai app and website, the top 5 types of dishes men cook are very meat-orientated. We celebrate everyone who chooses to cook more and shares their knowledge because by doing so, you are helping others to learn about the cooking process and enjoy something that connects us all…food."
Methodology:
Gallup and Cookpad measure the frequency of cooking by asking respondents to count the number of meals that they have personally cooked at home in the past 7 days – including lunch and then dinner. Respondents receive the following definition: "By 'cooking at home'; I mean a meal prepared AT HOME from ingredients such as vegetables, meats, grains or other ingredients. Please do not think about pre-made foods or leftovers that you reheat."
This survey was included as a module within the Gallup World Poll in 2021. Since 2005, the World Poll has regularly surveyed people in more than 160 countries using mixed methods of telephone and face-to-face interviewing. In a typical year, the poll results represent more than 95% of the world's population aged 15 and older, using randomly selected, nationally representative samples.
About Cookpad:
Cookpad is a home cooking and recipe sharing platform whose mission is to make everyday cooking fun. Founded in Japan in 1997, Cookpad is now available in more than 70 countries across 30 languages, via mobile app and web. 100 million people use Cookpad every month for daily recipe inspiration and to contribute to its vibrant home cooking community. We believe that cooking is the key to a happier and healthier lives for people, communities and the planet.
About Gallup
Gallup delivers analytics and advice to help leaders and organizations solve their most pressing problems. Combining more than 80 years of experience with its global reach, Gallup knows more about the attitudes and behaviors of employees, customers, students and citizens than any other organization in the world.