Never knew PRIDE like this before
Thailand Pride Festival 2022: Pride for Unity and Diversity

The coalition of Thai LGBTQI groups, a network of individuals and community-based organizations working to advance the human rights of LGBTQI community for decades, hosted the premier Thailand Pride Festival 2022 during 25-27 November 2022 in Bangkok as the annual and national event. Under the concept of "Unity and Diversity", this festival aims to raise awareness of diversity and inclusion among the public, while encouraging Thai LGBTQI and diverse communities to speak up their voices against stigmatization and discrimination.
"We hope Thailand Pride Festival will be an annual event that bridges the previous Bangkok Pride festivals that were held in November each year – with the last one taking place in 2007.", said Midnight, APCOM Executive Director, he added, "as we begin to recover from the effects of the pandemic, we really need support from all sectors of society to rebuild better and ensure that we all have the same rights and access to opportunities. We can unite in all our diversity which we should also celebrate."
Thailand Pride Festival 2022 addressed not only LGBTQI groups, but also other vulnerable and marginalized populations, according to the pledge to "leave no one behind" settled in the 2030 Agenda for Sustainable Development Goals (SDGs). Leaving no one behind means social inclusion, which leads to ensuring their visibility and meaningful participation. Therefore, various stakeholders and sectors joined hands and made this Thailand Pride Festival different from other Pride we knew before.
The festival comprised of many activities and events set up in many places – to highlight a few:
25 November 2022: HERO Awards 2022 at the Australian Embassy and After Party at SO/ Bangkok
26 November 2022: Community-based festival at Silom Soi 4
27 November 2022: Main Event at Chamchuri Square and Pride Parade at Silom
Key highlights of the festival were on the last day. One was the most memorable Pride Parade from Naradhiwas Rajanagarindra intersection to Saladeang BTS Station. It convened more than 500 people from various stakeholders to celebrate Pride together and raise awareness of diversity and inclusion among the public. Significantly, more than 75 guests from 15 Embassies in Thailand (Canada, England, Australia, Netherlands, Ireland, Spain, Austria, Denmark, Luxemburg, Germany, Sweden, Norway, France, Belgium, and EU) participated the march under their campaign "Love is Love: International Friends for Equality". Apart from that, there were multi-national LGBTQI, HIV, Sex Workers, Disabled and many other communities' networks together with partners, the public and private sectors dressed up and joined to wave the rainbows flags in the 5-row Pride Parade's key messages: P – Peace, R – Rights, I – Identity, D – Diversity, and E – Equality. Although it was a short distance this year, the visibility made to the public for Pride as well as existence of LGBTQI, vulnerable, and marginalized populations was made clear.
"As Thailand is the LGBTQI hub of this region, we want Thailand Pride Festival 2022 to be a big event that welcomes all the LGBT foreigners, expats, or migrant workers in Thailand to celebrate Pride together. Moreover, we want all stakeholders from different sectors to join us. Since we are just a small working group, every single support is very important. Let's make this Pride great and belong to everyone.", added Nikorn Arthit, Director of Bangkok Rainbow Organization and Thailand Pride Festival 2022 Working Group
Another inspiring highlight was the main event on the same day at Chamchuri Square, where was filled up with the main stage, booths from network partners, marketplace, APCOM's exhibition of Body Positivity, and interactive activities. The public event gathered almost 1,000 people for the whole day. The performances on the main stage were well-selected to represent the Pride for all targets, not only LGBTQI. There were variety shows by Down syndrome HERO Thailand and Network of Music and Arts of Persons with disabilities, drag show by Daofah, Special show by Moonlight (Silom Community), Mini-concert by Z22 (Ajintai Entertainment) and Silvy (Warner Music), and Discussions on the topics of "Elder People", "Urban Poor", "Drug User", "People living with HIV", "Lesbian's love", as well as "LGBTQI Laws". The stage was also run by the MCs invited by the LGBTQI communities. While Dr.Mix and Chompink from Rainbow Sky Association Of Thailand were in the afternoon, M Stanger Fox (Silom Community) and Nut Chayo (Mr.Gay World) were in the evening. This main stage was not only about entertainment, but also the platform where the audience knew more about each target group on the same Pride's stage.
Last but not least, in the event there was the interactive board that allowed the event's participants to cast their votes by putting sticker onto the policy they wanted it to happen in reality. "Same Sex Marriage" was the first selected with 145 votes followed by "Legalized Sex Work" with 122 votes. Other three policies were slightly different, which are "Free Sanitary Napkins" (98), "Legalized Sex Toys" (97), and "Gender Marker Change" (91). Although this poll cannot represent the whole population to make the impact now, the result reflects some ideas for the policy maker and the government that they should consider this if we want to advance human rights for LGBTQI in Thailand.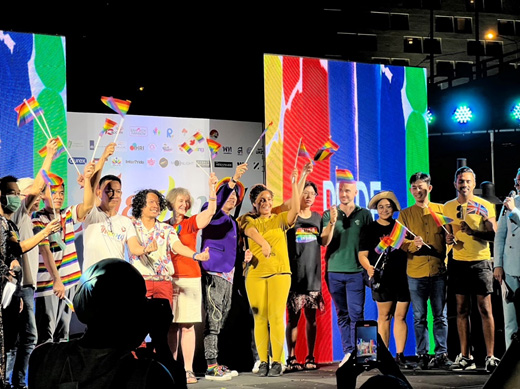 Thailand Pride Festival is event that everyone should be proud of. No matter what gender you are, what your lifestyle is, what your identity is, you can Pride because you have your own values, freedom, and dignity. Let's create equality for our society and celebrate it together., added Chompink Jirapat, Miss Queen Rainbow Sky Bangkok 2022 and MC of Thailand Pride Festival 2022
Thailand Pride Festival is also raising emergency funds to provide immediate responses needed by the grassroots LGBTQI communities who are significantly affected by the COVID-19 outbreak in Asia Pacific. You can be part of us to contribute to #CoronaAPCOMpassion COVID-19 Emergency Fund.
For further information: https://www.apcom.org/apcom-staffs-donate-salaries-creates-coronaapcompassion/