Bangkok, 10th December 2020 – CONICLE, an innovative edtech platform for human resource development founded in Thailand recently held their first RE-D Day issuing a stark message to employers and employees to skill-up and leverage the powerful force of learning to adapt to future work challenges. The CentralWorld event included discussions led by Conicle and two leading Thai business experts, QGEN – HR Practice Provider and AIS Academy
All three speakers shared their views relating to RE-Define, RE-Discuss and RE-Design, highlighting the importance of making adjustments to stay updated and adapting to constant change and uncertainty. These efforts can lead to the creation of new learning experiences that help develop the company and its human resources work together happily and efficiently.
The three presentation summaries are:
RE-Define the Landscape of Learning In the 21st Century by transforming e-learning into learning experiences
RE-Discuss what works for Talents of the Next Decade by building a workforce that prioritizes business strategy in order to add value to the company
RE-Design the Effective Employee's Learning Experiences to provide new learning experiences that will prepare them for everything. The concept focuses on improving Mindset, Skillset and Toolset
"RE-D,pronounced "re-dee" or "red", acts like a warning sign that we need to do something to meet tomorrow's job-related demands," explains Nakorn 'Poon' Prukpipatmeth, CEO & Co-Founder of Conicle. He started his speech with a thought-provoking RE-Define theme, issuing , three key message alerts, highlighting the importance of knowledge in the modern work environment:
8 out of 10 future jobs will be newly-created
AI is taking over human jobs and young people need to adapt
Young people need to stay up to date and constantly develop themselves
Education technologies like e-learning are being utilized now more than ever, However, this change has been brought on by modern companies reacting to paradigm shifts, an ineffective pedagogical process. A lack of interesting content and participation could render e-learning inadequate. Addressing these challenges, e-learning needs to be RE-Define and transformed into new learning based on experience, driven by feedback and personalized, with supportive systems in place.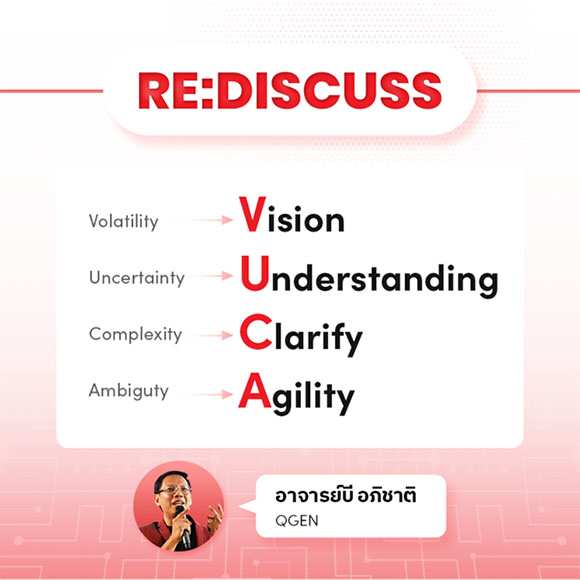 Apichat Khanthavithi, Managing Director at QGEN Consultant also took part in the discussions, posing questions such, "What kind of company talent do you wish to cultivate?" and "Can existing talents be considered talent?" VUCA (volatility, uncertainty, complexity and ambiguity) within the business landscape is the result of economic, social, political and/or technological factors. These challenges need to be addressed through diversified and forward-looking perspectives, plus personal and company-wide understanding, simplifying complex content and prioritizing flexibility.
The presentation focused on RE-Discuss, concerned with building a workforce that prioritizes business strategy in order to add value to the company. This concept comprises three aspects: building a strong corporate character, a strong recruitment process that maintains talent, plus encouraging employee efficiency.
The event ended with a lecture by Dr. Parong Taravanich, Head of AIS Academic and HR SVP at Intouch Holdings, who shared his experience and insights regarding RE-Design. He emphasized the different experiences of each generation, indicating how corporate work experience is undergoing major change. RE-Design is about creating new experiences while being prepared for everything by prioritizing Mindset (accounting for 70% on a scale of importance scale), Skillset (accounting for 20%) and Toolset (accounting for 10%). AIS has implemented the AIS LearnDi (by Conicle) tool to help provide such learning experiences.
About Conicle
Conicle has built the revolutionized mobile first solutions to empower enterprises and people anywhere anytime.
Conicle to build revolutionary business solutions, served from mobile & cloud, created to help organization to develop people easier and communicate much better. It works faster, smarter, and simpler! It all adds up to enhance people's capability and make business grow and be successful.