The COVID-19 situation has heavily affected almost every industry in Thailand in the past few months, especially the restaurant business. Restaurants that depend on tourists and non-Thais are vulnerable when there is a lockdown. Full-service restaurants, restaurants that focus on generating sales from in-house dining, are the group that has been the most heavily affected. Thai consumers have adjusted their dining behavior during this period and have become more cost-conscious, thereby directly affecting restaurant diners.
Fortunately, during this pandemic, Hungry Hub came to the rescue! The start-up managed to support severely affected restaurants through their All-You-Can-Eat Package that turns A-la-Carte exclusive restaurants into an unlimited dining concept allowing a unique dining experience. Many new restaurants joined their platform, which directly encouraged Thai locals to start dining out more. One such restaurant is Krua Je Ngor, who has always been an A-la-Carte restaurant but now joined the Hungry Hub platform at a starting price of 690 baht per person. The All-You-Can-Eat Package allows diners to order an unlimited amount of food from a selected menu at a fixed price. This model has been a success amongst local Thais and has helped restaurants increase their revenue. Krua Je Ngor, in particular, has made an extra 3 million baht revenue per month by seating 4,500 customers through the Hungry Hub platform alone!
In this past year, Hungry Hub has also launched unique dining packages for hotel restaurants. As the focus has shifted to attract more local Thai consumers, Hungry Hub has launched the "Staycation Package." This package focuses on utilizing existing restaurant resources to increase revenue for the hotel F&B while providing customers with a full experience inclusive of a room plus an "all you can eat" dining experience. Current successful staycation packages include Vertigo at the Banyan Tree Bangkok as well as Avani Riverside. Across the board, there has been an increase of 20-50% revenue for Hungry Hub restaurant partners.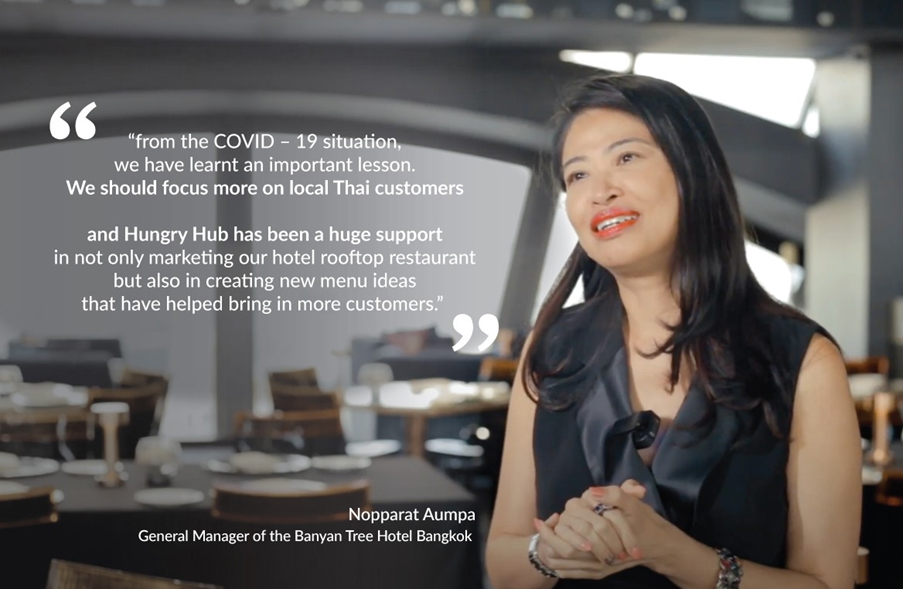 Khun Nopparat Aumpa, the General Manager of the Banyan Tree Hotel Bangkok, states that "from the COVID – 19 situation, we have learned an important lesson. We should focus more on local Thai customers, and Hungry Hub has been a huge support in not only marketing our hotel rooftop restaurant but also in creating new menu ideas that have helped bring in more customers."
Given that Hungry Hub is supporting Thai SMEs and is in line with ECG–Research's vision, the start-up has received the second round of investment this year from the private equity firm. Khun Patchalit Klinhom, Founder and CEO of ECG-Research, said, "ECG-Research is proud to partner with Hungry Hub. We have seen lots of potential in this industry market due to the business model that fits the Thai people's lifestyle and the overall market size, which is quite large. We have also noticed that many restaurants in Thailand and Thai people love the All You Can Eat buffet. Also, Hungry Hub aligns perfectly with our mission of Private Equity for Public Equality, which is to innovate for public equality by building a sustainable future with impact and scale, so we focused on investments that create value for the community. During the coronavirus outbreak, Hungry Hub has helped many restaurants to increase sales by implementing an upselling strategy. Moreover, Hungry Hub can adapt itself to circumstances, especially during difficult times like COVID-19, which is an important factor for a business to grow sustainably. Thus, ECG-Research is keen to strengthen Hungry Hub capabilities by generating new business opportunities; for example, finding potential business partners".
In 2019, Hungry Hub received a Seed Round investment of 450,000 USD from Expara and 500 TukTuks (500 Startups Thailand Fund).